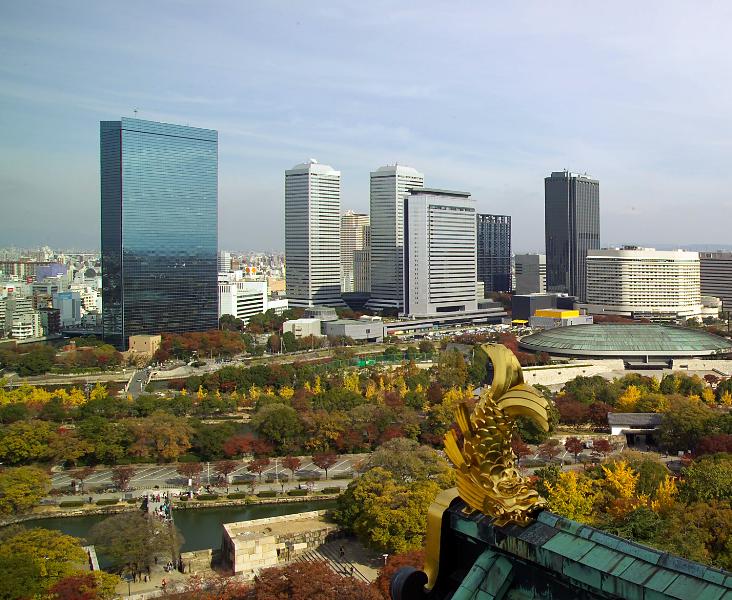 Osaka is a city in the Kansai region of Japan's main island of Honshu. Located at the mouth of the Yodo River on Osaka Bay, Osaka is Japan's third largest city by population after Tokyo and Yokohama.
Central Osaka is often divided into two areas referred to as Kita ( north) and Minami (south), at either end of the major thoroughfare Midōsuji.
Kita is roughly the area surrounding the business and retail district of Umeda. Minami is home to the Namba, Shinsaibashi, and Dōtonbori shopping districts. The entertainment district around Dōtonbori Bridge with its famous giant mechanical crab, Triangle Park, and Amerikamura ("America Village") is in Minami. In Yodoyabashi and Honmachi, between Kita and Minami, is the traditional business area where courts and national/regional headquarters of major banks are located. The newer business area is in the
Osaka Business Park
located nearby Osaka Castle. Business districts have also formed around the secondary rail termini, such as Tennōji Station and Kyōbashi Station.
Osaka is known for its food, both in Japan and abroad.
Osakans love for the culinary is also made apparent in the old saying "Kyotoites are financially ruined by overspending on clothing, Osakans are ruined by spending on food".
Regional cuisine includes
okonomiyaki
(pan-fried batter cake),
takoyaki
(octopus dumplings),
udon
(a noodle dish), as well as the traditional
oshizushi
(pressed sushi), particularly
battera
  (
pressed mackerel sushi)
.
One of the most famous festivals held in Osaka, the Tenjin-matsuri is held on July 24 and 25.
Tourist attractions include:
Osaka Aquarium Kaiyukan – An aquarium located in Osaka Bay, containing 35,000 aquatic animals in 14 tanks, the largest of which holds 5,400 tons of water and houses a variety of sea animals including whale sharks. This tank is the world's second-largest aquarium tank, behind the Georgia Aquarium, whose largest tank holds approximately 29,000 tons of water.
Tempozan Ferris Wheel – A 112m tall Ferris wheel located next to the aquarium in the bay area.
Tennōji Zoo
Universal Studios Japan
HEP Five – A shopping/amusement plaza in Umeda featuring a Sega Joypolis and rooftop Ferris wheel offering views of the city.
Umeda Sky Building – Twin 173m skyscrapers bridged by a rooftop "Floating Garden" observatory presenting a 360-degree panoramic view of Osaka. Popular for photographs, the structure also houses an underground mall with restaurants styled after the early Showa period of the 1920s.
Dōtonbori – An iconic tourist/nightlife area
Namba and Shinsaibashi districts – Located side by side in Chuo-ku, and commonly referred to as "Minami", these districts offer countless options for shopping, restaurants, bars and nightclubs running 24/7
Higashi-Dori area – A network of shōtengai in Umeda with numerous restaurants, bars, and nightlife options
Shin-michi/Kitashinchi district – Though well known for its upscale dining and hostess clubs, also offers more reasonably priced izakaya as well as bars and nightclubs that cater to tourists and foreigners
Shinsekai – Another iconic Osaka eating/drinking district, built around the Tsūtenkaku Tower and famous for cheap kushikatsu
Den Den Town – An electronics/anime district analogous to Tokyo's Akihabara, Den Den Town also features maid cafes and other venues of entertainment
Sankaku Koen (Triangle Park) – A popular youth meeting spot in Amerika-mura. Eccentric fashions and local skateboarders abound
Jūsō – A popular stall-style eating/drinking district considered to be exemplary of Osaka's "earthiness"
Kyobashi – A commercial area with a diverse variety of izakaya
Zepp Osaka – A live stage venue in the Osaka Bay area that hosts many big-name musical acts and events
Doyama – Considered a hub for Osaka's homosexual community